---
Nel Ritmo Del Piacere
November 29, 2012: Italian press release, click here!
---
Win a signed Duran Duran Tour Poster
July 10, 2012 | I just got this cool message from Kirk of ddworldwide.info "Inspiration and legacy, like a torch, cannot survive in a vacuum. It needs oxygen to burn brightly and it's up to us, as Duran Duran fans to be that oxygen to keep the torch burning. It's up to us as fans to help pass the torch on to future generations so that Duran Duran's music can be appreciated and inspire many more for years to come. To do this, we invite you to share with us a video of yourself so that we can post it on our Youtube site."

More details here
---
The Mail on Sunday is with Duran Duran!
May 6th, 2012 | Nick answers to the controversial media attack.
Read it all here
---
Duran Duran in Antigua, Eilean and Rio Celebration!
April 25, 2012 [Updated on April 28!] The guys are currently in Antigua. The trip was planned a long time ago. The main reason of the trip is to reconvene with Eilean, the yatch from Rio, which has been fully restored but also to shoot a little documentary to celebrate the 30th anniversary of the Rio album and video.
Read more and get two exclusive pics of Simon in Antigua Here
---
Cool duranasty.com Competition!
Duran Duran Rock The Opera House!
April 19, 2012 | duranasty.com, in collaboration with Zed Live, has put up for grabs two tickets for the Duran Duran concert at the Arena of Verona in Italy on July 16, 2012.
---
Roger in Naples!
February 3, 2012 | Deejay set with a bit of Art and Roll. Our drummer attends the Rock! exhibition at Palazzo Delle Arti in Naples.
Click here for an exclusive photogallery!
---
Girl Panic! premiere!
November 9, 2011| It's Girl Panic! Report, gallery, reviews and video-stills.
click here and enjoy!
---
Duran Duran annouce show in Switzerland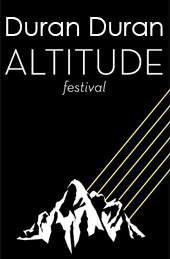 October 27, 2011 | We just got the full Altitude Festival press release, click here to read it all.
---
New Roger Taylor Interview
June 24, 2011: Roger talks about the rescheduled Uk shows and more.
Get the interview here
---
Photo News: Duran Duran Unstaged
March 23, 2011 | Check out the exclusive Photo Gallery of the Unstaged show rehearsal from march 22 at Mayan Theater in Los Angeles.
---
One Night Only special
sunday at 8.30 pm Uk time on ITV1
March 20, 2011 | ITV has kindly sent us some great pictures taken during the show.
---
"No regrets except botox"
March 18 2011| there's a great 8 pages feature on Duran Duran on the current issue of Vanity Fair Italia.
---
Photonews: the guys at the Burberry fashion show on feb 21
---
Photonews: Nick february 11
February 12, 2011: Nick Rhodes attends Harvey Weinstein's Pre-BAFTA dinner at Almada in London. In the pic Nick and Harry Potter's Emma Watson.
---
Photonews: John february 10
February 11, 2011: Gela Nash and John Taylor arrive at the 14th annual Unforgettable Evening benefiting EIF's WCRF held at Beverly Wilshire Four Seasons Hotel on February 10, 2011 in Beverly Hills, California.
---
Duran Duran on cover of Seven!
issued today with The Sunday Telegraph
Just put us on the cover we'll be smining anyway...
January 16 | wonderful feature on Duran Duran, with a beautiful picture on the front cover and a 3 pages article, on Seven magazine, issued today with The Sunday Telegraph. "They've almost drowned, been threatened with arrest fallen victim to their own success. The evergreen 'yacht rock' pioneers on 'sexy' lyrics, eighties excess and the joys of jet-setting.
Here a couple of quick preview pictures!
Uk fans, don't miss it, get your copy, it's a one day only mag!
---
Duran Duran concert: Arena di Verona, Italy july 11, 2011 [?]
January 9, 2011: First post of the year!
According to tgverona.it, a local tv news from Verona, Italy, Duran Duran will play at the 'Arena di Verona', the historic italian temple of the music, on july 11, 2011. The article, posted on january 8, reports: "On 11 July, after six years from the first appearance at the Arena, will arrive those wild boys who have sold 85 million albums worldwide. Simon Le Bon with Duran Duran are still on top after almost three decades since their first album dated 1981 with their latest successful hit "All You Need Is Now".
[Thanks to Raffaella for the news]